Ozark Sunrooms
CURVED SUNROOMS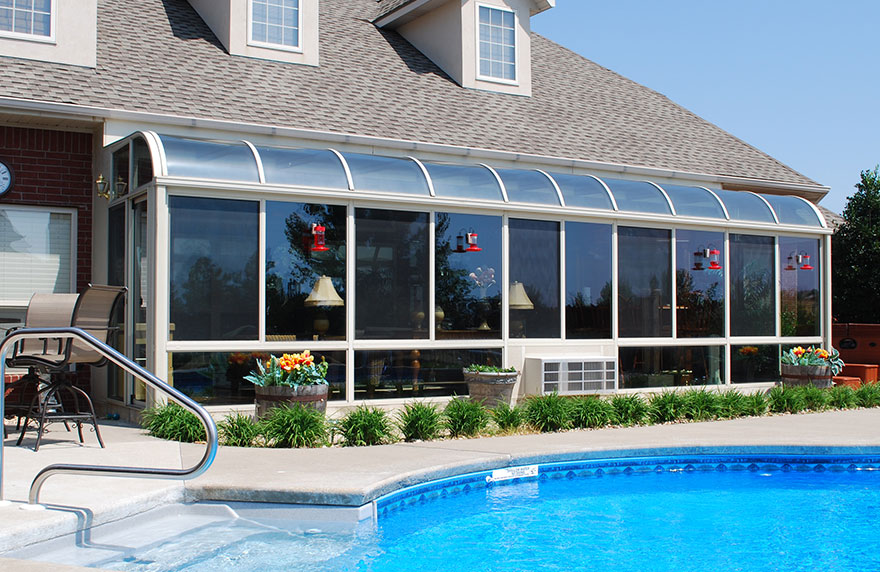 Designed for year-round living, our solarium and sunroom designs can be customized to fit your lifestyle and will enhance the beauty and value of your home. Traditional and contemporary solarium and sunroom designs will add light, elegance and a spacious look that will blend in perfectly with any style of home. Each solarium and sunroom design comes in a variety of sizes, roof and frame finishes, door choices and many other features.
To find out more about how you can enjoy year-round outdoor living with one of our beautiful sunrooms, solariums, conservatories or patio rooms, request a free brochure or contact us.
Curved Sunrooms: a refined sunroom patio enclosure with an elegant curved eave. The graceful lines and elegant symmetry of our curved eave solarium designs complement your home's existing roofline for a polished, finished look. Choose this beautiful sunroom patio enclosure and you'll own the solarium that made Four Seasons famous. Select a solarium with a slim, contemporary aluminum profile, or one with the warm natural feel of Northern White Pine beams. All-year comfort is standard with every sunroom patio enclosure!
RECENT PROJECTS
(Click to Enlarge)
Stunning curved sunrooms are a wonderful option for any home expansion. This sunroom is the solarium that made Four Seasons Sunrooms famous and with its graceful lines it would look beautiful on your Northwest Arkansas home! If you'd like to hear more, please call us today or visit our Northwest Arkansas showroom for a guided tour of our on-site sunrooms.

Let's Talk
We'd love to speak with you about your ideas and vision for your project. Ozark Sunrooms is the premier provider of home additions and remodeling in Northwest Arkansas. Please reach out today!
Contact Ozark Sunrooms