Ozark Sunrooms
CONSERVATORY SUNROOMS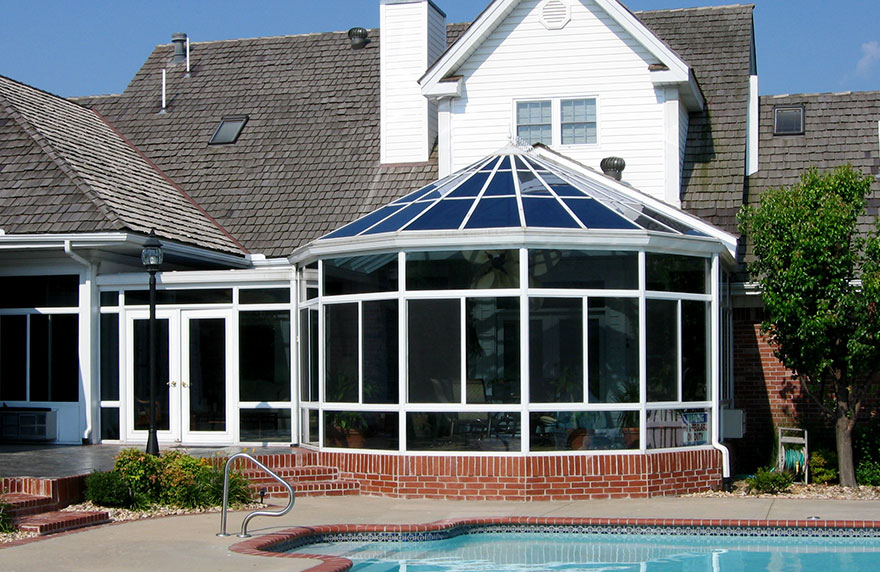 Designed for year-round living, our solarium and sunroom designs can be customized to fit your lifestyle and will enhance the beauty and value of your home. Traditional and contemporary solarium and sunroom designs will add light, elegance and a spacious look that will blend in perfectly with any style of home. Each solarium and sunroom design comes in a variety of sizes, roof and frame finishes, door choices and many other features.
To find out more about how you can enjoy year-round outdoor living with one of our beautiful sunrooms, solariums, conservatories or patio rooms, request a free brochure or contact us.
Unmatched insulation and solar control are yours in this carefully crafted and versatile conservatory. Available features include wood/clad casement windows, French doors and transoms. Traditional embellishments such as finials, ridge cresting, dentil moulding and etched glass provide the finishing touch to this modern day masterpiece of Victorian English Architecture. Combination units (Conservatory and Lean-To) are part of the versatility of this system.
RECENT PROJECTS
(Click to Enlarge)
Dreamy conservatory sunrooms are a perfect choice for a front row seat to the gorgeous seasons of the Ozarks. Northwest Arkansas never fails to provide a beautiful scenic canvas with the change of every season and by adding a sunroom to your home you will always have the perfect view to enhance your space. Additionally, Four Seasons Sunrooms exclusive, patented, multi-coated Conservaglass windows ensure longevity, safety, and energy efficiency you won't find anywhere else. If you'd like to hear more, please call us today or visit our Northwest Arkansas showroom for a guided tour of our on-site sunrooms.

Let's Talk
We'd love to speak with you about your ideas and vision for your project. Ozark Sunrooms is the premier provider of home additions and remodeling in Northwest Arkansas. Please reach out today!
Contact Ozark Sunrooms