Ozark Sunrooms
CRIMSON CASUAL PATIO FURNITURE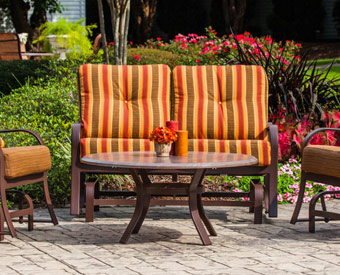 Crimson Casual is proudly manufactured in America, and we're so confident of American quality that we have backed our products with one of the best warranties in the industry.
Crimson Casual currently offers 12 groupings of extruded and cast aluminum outdoor furniture. In order to provide you with a product that will stand the test of time, they use only the best extruded aluminum that exceeds the industry standards in wall thickness and quality. Their precise and detailed castings are cast in a US foundry from a permanent mold process, rather than a sand cast process. Their frames are electrostatically powder coated using a state-of-the-art pre-treatment and finishing process.
They offer eight tasteful color options to provide you with quality, beauty, and durability. Their sling seating is designed with precise contours for a comfortable and relaxing feel. Designed with your comfort in mind, the cushions have been referred to as the "best feeling cushion in the industry". Crimson Casual uses only top quality fabrics from the industry leaders in performance fabrics including Sunbrella®, Outdura®, Phifertex®, and Textilene® to ensure quality, style and resilience.
Customize Your Environment
With outdoor spaces becoming a go-to destination in your home, investing in comfortable patio furniture becomes a must! Crimson Casual patio furniture has some great styles to choose from and the best part is that all of it is customizable! You can chose from multiple fabric styles and eight frame colors! Crimson Casual company is dedicated to bringing you the finest quality outdoor furniture on the market, and we would love to sit down with you in our showroom to help you plan out your perfect patio or sunroom! Stop by our Northwest Arkansas showroom and experience this outstanding furniture.







Visit Our Showroom
We'd love to speak with you about your ideas and vision for your project. Ozark Sunrooms is the premier provider of home additions and remodeling in Northwest Arkansas. Please reach out today!
Visit the Ozark Sunrooms Showroom