Ozark Sunrooms
BIG GREEN EGG GRILLS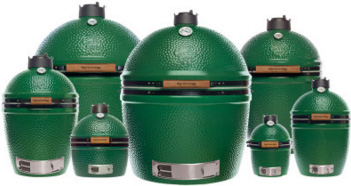 A ceramic cooker that is ready to cook in 10 minutes with no lighter fluid. The ceramic walls retain heat with accurate temperature control and no hot spots. Cool to the touch so it's safe around children. Weather-proof so it won't rust. Complete enclosed cooking so there are no grease flare ups. Will cook a ham or turkey to perfection in 2 or 3 hours.
The EGG is the most unique barbecue product on the market, with unmatched flexibility and capabilities that surpass all other conventional cookers combined. It is a smoker, a grill and an oven and you can cook literally any food on it year around, from appetizers to entrees to desserts.
The Big Green Egg stands alone as the most versatile barbecue or outdoor cooking product on the market.
A Big Green Egg can act as a grill, oven, and a smoker.
Big Green Egg offers state-of-the-art ceramic technologies that provide unrivaled thermal properties, material quality, and cooking performance.
Big Green Egg has been standing behind its products for over four decades.

BIG GREEN EGG PRODUCTS
(Click to Enlarge)

Visit Our Showroom
We'd love to speak with you about your ideas and vision for your project. Ozark Sunrooms is the premier provider of home additions and remodeling in Northwest Arkansas. Please reach out today!
Visit the Ozark Sunrooms Showroom