FREQUENTLY ASKED QUESTIONS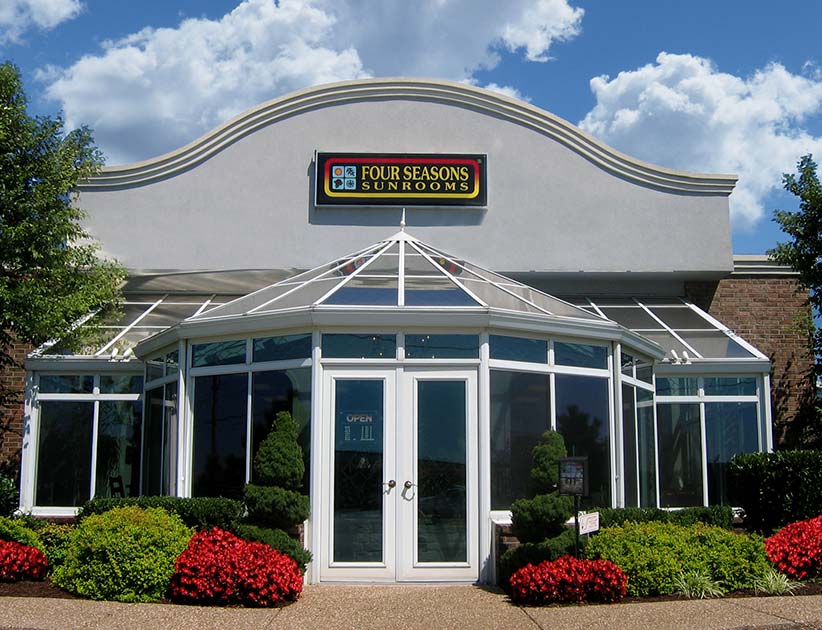 OZARK SUNROOMS
Will Ozark Sunrooms & More help me in deciding what kind of sunroom will fit the best on my home?
Ozark Sunrooms & More has professionally trained design consultants that will help you in planning your dream getaway! When we send a design consultant to your home they come equipped with the knowledge to answer all of your questions and help design the perfect room for your house and your budget.
Once I decide to build a Four Seasons Sunroom on my home, how long does it take to complete?
It takes 4-6 weeks for us to order your sunroom, in the meantime we will make arrangements to prepare your site and get any permits that are necessary. Once the room is delivered to our warehouse, our Production Manager will call you with the schedule to install your new sunroom. Installation usually takes 1-2 weeks, weather permitting.
Will a glass sunroom be too hot to enjoy in the summer?
Sunrooms can be too hot if they do not have the right glass installed in them. With our Four Seasons Conservaglass™ Select your room will be comfortable year round! Conservaglass™ Select is made by Cardinal Glass and can only be purchased through Four Seasons Sunrooms. We invite you to come into our showroom for a demonstration in our own "tunnel of heat". For more information on Conservaglass™ Select, see below or ask one of our qualified Design Consultants.
Do I have to put a heat and air unit in my sunroom?
We recommend that you add a Heat Pump to help circulate the air and keep your room at a constant, comfortable temperature. Keep in mind that our patented Conservaglass™ Select aids in keeping your sunroom warm in the winter and cool in the summer.
What if I don't want all-glass? Can I have a solid roof?
Four Seasons Sunrooms offers many styles of solid roof sunrooms, some with skylights. We would be happy to show you some examples in our showroom.
Can you build a sunroom on a new or existing deck?
Sure we can, as long as it is structurally sound. There are times when we might have to make modifications to improve the support of an existing deck which we can do with our ConservaDeck system. We can also install new decks when needed.
How do I schedule an in-home consultation?
Give us a call at 479-306-9900 or 1-800-NEW-VIEW. You can also send us an e-mail at infor@ozarksunrooms.com and our business manager, Paula, will give you a call to set up an appointment that is convenient for you.
Do you offer financing?
We have a good relationship with several area banks and have credit applications. We can also check your individual bank on request.
What is the warranty on a Four Seasons Sunrooms?
Four Seasons Sunrooms offers a Transferable Lifetime Limited Warranty which means that Four Seasons Conservaglass™ Select is covered against any manufacturers defect for the lifetime of your Four Seasons Sunroom. This warranty covers not only the original purchaser, but is even transferable to future homeowners, ensuring that your Four Seasons Sunroom maintains its value, even if you move. This warranty provides for 100 percent glass material replacement for 20 years from the time of complete installation and 50 percent thereafter.
Will my sunroom withstand the wind and the weather that Northwest Arkansas can deliver?
Four Seasons Sunrooms conducts thorough testing in all areas of the country for all kinds of weather and, therefore, have all of the following accreditations:
Energy Star Qualified
Good Housekeeping Seal
National Fenestration Rating Council
American Architectural Manufacturing Association
International Code Council Evaluation Service
Underwriter's Laboratories Canada
California Housing and Community Development Factory-Built Housing Program
Florida Building Commission
National Sunroom Association
We are also a member of the Better Business Bureau, the Home Builders Association and several Chambers of Commerce around Northwest Arkansas.

WHY A FOUR SEASONS SUNROOM?
Number one in North America
Four Seasons Sunrooms is the premier manufacturer and builder of year round glass sunrooms, solariums and green house additions in North America. We set the standard for our industry.
In business for over 30 years
Four Seasons Sunrooms has been in business for over 30 years. We are tried and true, highly recommended, utterly dependable, and internationally recognized as the industry leader in both products and customer service.
Sunrooms, solariums and green house additions that meet or exceed building codes
Four Seasons Sunrooms designs all of our sunrooms, solariums and green house additions to the highest possible standards. Our glass room styles can be custom designed to meet or surpass all architectural and building codes in you specific area.
Global strength, local expertise
Four Seasons Sunrooms offers "the best of both worlds": industry-leading corporate strength and resources, combined with highly trained local franchisees who live where you live, know what your needs are, and offer personalized attention and unparalleled local service.

OUR GLASS
Maintenance – Windows that Virtually Clean Themselves?
The exterior coatings on Conservaglass™ Select are not magic, but they're close to it. A variety of different technologies go into manufacturing Conservaglass™ Select, but the key technology that helps windows stay cleaner longer is the super-thin coatings we apply. Using a patented coating process, invisible, durable and permanent coatings of both silicon dioxide and titanium dioxide are applied to the outside of the glass, permanently enabling your sunroom and conservatory glass to stay cleaner longer.
Energy Efficiency – Four Seasons Has the Highest R-Value in the Industry
R-Value measures how easily heat travels through a material, or its thermal Resistance. The higher the R-Value, the greater the insulating effectiveness, the lower your energy costs and the greater your comfort. For maximum comfort, a 4.0 R-Value is recommended. Conservaglass™ Select's R-Value is 100% higher than our competition's standard double-glazed glass, keeping your room warmer in winter.
Unsurpassed Visibility with Lower Reflectivity
The percentage of visible light transmitted through the glass. High numbers here indicate a room that will be uncomfortably bright inside. You don't want to have to squint or wear sunglasses inside your new room. A visible light transmittance below 60 is recommended for glare-free natural lighting. With a Visible Light Transmission of only 56, Four Seasons Conservaglass™ Select offers the perfect balance between visibility and glare reduction. No squinting or sunglasses needed.
CONSERVAGLASS PLUS™ Blocks 85% of the Sun's Solar Heat!
Relative Heat Gain measures the heat gained through a glazing. This number is more important in a glass room than the R-Value, particularly in summer and in warm, sunny climates. High Relative Heat Gain values indicate a room that will be unbearably hot or expensive to keep cool. Conservaglass™ Select Roof Glass' Relative Heat Gain of only 39 ensures your room can be effectively cooled in all seasons.
The real story behind Conservaglass™ Select and what makes it so special is its exclusive, patented, multi-coating. This extraordinary process uses multiple microscopic coatings of exotic metals and compounds to let beneficial natural light into the roof, while keeping out the oppressive summer heat and damaging UV rays. This remarkable glass also reflects interior heated air back into the room, keeping you warmer in winter as well – a true year-round room! Insist on a glass demonstration from any vendor trying to sell you a glass room addition.
Four Seasons is confident you'll see the superiority of Conservaglass™ Select.